10 Awesome Ways To Use Facebook Advertising For Your Business!
While you are reading this blog, I am sure there must be an additional tab opened in your browser where you are trying to check recent status update from your friends or there must be a pending notification on that blue color app eagerly waiting for you to click on it.
From "Babies singing a perfect Bollywood song" to "Animal fanatics sharing cute videos of their cats & dogs"; from "Our Prime minister giving a perfect speech on growth prospects of the country" to "Few ministers giving Not-so-perfect speech about feminism"; one thing that keeps us curious about what's happening around the world is- Facebook.
So let's think about it. With around 226 million users in India actively spending time on this platform; Social media marketing sounds totally incomplete without Facebook.
Be it getting quality prospects for your upcoming real estate project or getting new customers for your insurance policy, Facebook Marketing has many ways to surprise you with its cost effective and efficient results.
So if you want to know how to utilize this platform to achieve your business goals; Check out these top 10 strategies.
1. Generate Quality Sales Leads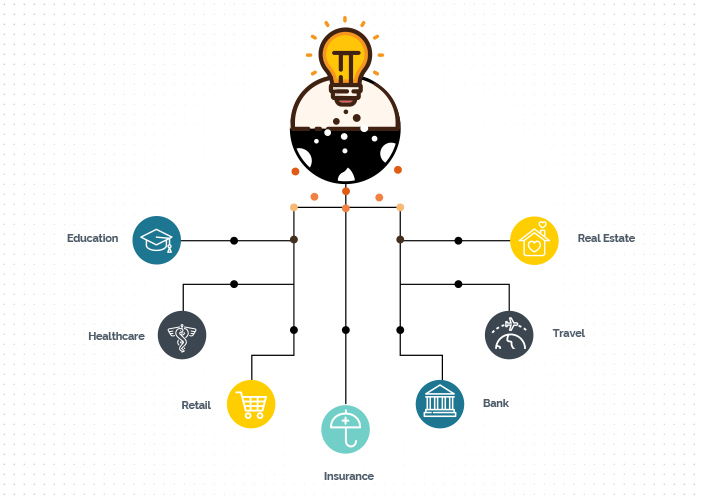 Be it any industry you belong to, sales is a backbone! But one of the important factor responsible even before a successful sales closure is Lead Generation. With its simplicity, Facebook has made it extremely easy to target and acquire ideal leads. The Auto pull feature makes the registration process even easier; where user doesn't even have to leave Facebook's interface.Combining the form with valuable offers and beneficial information included in Context Card; Facebook leads would be a great opportunity for the growth of your business. So get ready to make that first impression!
Combining the form with valuable offers and beneficial information included in Context Card; Facebook leads would be a great opportunity for the growth of your business. So get ready to make that first impression
2. Drive Traffic To Your Website
You spend so much time and money on building that awesome looking website. Don't you think it deserves a warm visit from your target audience?
Website click ads on Facebook are exceptional if you are looking to generate traffic on your website and with Analytics placed correctly; it gives you a real-time statistics and performance. This in turn helps you in learning visitor behavior that can help you in improving your Target Marketing efforts in future.
With this objective, Facebook also optimizes your ad where you get maximum clicks at a minimal cost!
3. Promote Your Upcoming Event

If you have an exciting event coming up then there is no better platform to promote it than Facebook. With Event promotion, you can create the buzz about your exciting event as well as you can create leads or sell tickets by integrating your website properly into the campaign. How cool is that?
4. Increase Conversions On Your Website
How often do you see the e-commerce companies dominating your newsfeed with "End of Season Sale"& "FLAT 50% OFF"? EVERYDAY, Isn't it?
With Conversion campaigns, you can not only drive people from Facebook to your website but also track a specific action that they have taken on your website such as buying a product or signing up for your webinar!
In order to do that you have to install Facebook Pixels on each page optimized for a specific action you want your user to take.
5. Get Video Views

Marketers are increasingly using video content to engage their audiences on social media. As per research, video ads generate higher engagement and more click-throughs than traditional static ads.
So, if you have that inspiring story which you want to share with the world, you should definitely use the Video Views objective.
6. Reach People Near Your Business
Is your brand hyper-local? Local Awareness objective on business allows you to reach people who are geographically closer to your business, but having only 2 options for targeting sometimes makes it very one-dimensional.
So if you wish to have a narrowly targeted audience with just Age and Gender, this option is more suitable for you.
7. Get Installs & Engagement For Your App

Gone are the days when businesses would debate whether to have a mobile application or not. Businesses from all corners of the world are now considering their App as a means to primarily improve their customer service.
With App install campaigns, you can now get as many downloads as possible to increase your app store ranking. An app installs campaign is one of the best way to kick-start your downloads.
With App engagement, you can link your ad to a specific section of your app – such as your online store, a registration page and more – so you can give your customers the best experience.
8. Get People To Claim Your Offer
If you are planning to attract more customers with a heavy discount or exclusive offer, Facebook "Offer Claims" campaigns would be a great choice. It could be beneficial in lead generation since now you can provide an incentive to your audience by asking to use their email IDs in exchange of a coupon code.
9. Promote Your Page And Engage Your Audience
Well, which company doesn't want a loyal fan base? Promotion of your Facebook page itself accomplishes 1 goal: New fans.
So if you want to build awareness for your business by increasing the number of likes on your page, page promotion happens to be a go-to option on Facebook. But remember; if people don't actually ENGAGE with your posts, your page likes are essentially worthless. So start sharing a valuable content in order to keep your audience highly active and engaged.
10. Retargeting

A simple question that every business should ask themselves is – Who is more likely to provide an email address? Is it "Someone who has never heard of you before" or  "Someone who visits your website frequently"?
Of course, it is the latter one. When you target people who have visited your website before with an opt-in opportunity, chances are your costs and success rate are significantly better than targeting a cold audience. Also keep in mind that the quality of the email address from a frequent website visitor will also be much higher.
Although there is no specific objective given as "Retargeting" in Facebook, it has been proven as the most important strategy when it comes to increasing the number of 'Conversions'.
Our suggestion would be "Focus not only on a random website visitor, but most engaged website visitor". Results then will be even better.
So how is your experience using Facebook Advertising? Good? Not so great? Let us know in the comment section below.
Also, If you are just starting and need a FREE consultation on how to use Facebook Marketing for your business? Reach us now at info@valuedirect.in or call us on +91 22 4113 3762!